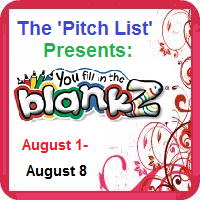 This adorable little puppy is from
blankZ
! 
They make adorable items you can color, then wash, then color again and again. A customizable toy! 
I took this little guy out of the packaging and within minutes had him rainbow colored in moments. I wrote "Love" on his back as well and put him back in his box as he is a gift for one of my children who will adore him! Coloring him was so easy! I did manage to get a bit of marker on my hands. 
I think this was a godo thing as now I know it comes off easy. 
I used normal hands soap and our nail bruch that we use to wash our hands with as it does a great job! 
No big deal!
No more effort than normal hand washing for us! 
Love It! 
I will update this post again with more photos once my children have colored him a few times! 
Giveaway Aug 1 to Aug 8
Consists of one Blankz from the First Series a day for seven days
a Rafflecopter giveaway