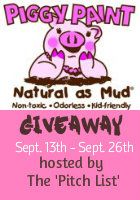 Thank you for taking a moment to read this review. I hope you will find this product worthy of your time so you will enter the giveaway. If you love polish I can't see why you wouldn't want to enter the giveaway.
This is THE BEST POLISH!
Not all nail polish is the same! Ok, 99% of it is the same, that is to say, it is full of toxins that are bad for us. Piggy Polish is different!
As Natural As Mud
100% Biodegradeable
Non-Toxic REALLY
Low Order
True Vibrant Colors
Free of formaldehyde, toluene, phthalates, Bisphenol A, ethyl acetate and acetone.
 Our Piggy Paint Experience
Years ago we tried piggy paint. I admit I knew nothing about how to really use it right, or any nail polish for that matter. I found it pealed off. We still used it as it was the safest for our little one.  As our oldest got older and received more and more common nail polish I pushed my worry over how toxic it was out of my mind. She no longer sucked on her fingers right? The fact of the matter is that most of us touch our mouth or face many many times a day and we don't even really know we are doing it. These toxins are not ok and ignoring them when I know better isn't either.
When given the change to review for Piggy Pant I was thrilled. I had learned a bit over the years about how to do things the right way. Sure enough knowing how to care for nails and how to use polish the right way was the key. Piggy Paint sent three nail colors, base coat, and top coat, and a nail polish pen. Right away it hit me, I had to get the polish I already had on myself off and I had no safe, really non-toxic, nail polish remover so I got online and ordered Piggy Paints nail polish remover, along with a blue and a black nail polish! I can't help it, I like dark colors and so does my oldest daughter!
Soon as I got the remover I went to work.
PROS: Lower Order Than Most, Non-Toxic, Works on all Polish
CONS: I found it took a while as I had a proper manicure 2 weeks before.
I ended up using a nail file to buff out the last of the polish on my nails. That done it was time to prep my nails. These are my steps for myself and my three children who tested this polish with me!
Wash Hands
Lotion hands
Shape Nails
Trim cuticle (not the kids)
Wash hands Again
lightly buff top of nails just a bit (not the kids)
Base Coat
2 Color Coats
Top Coat

Enjoy
I had a very costly manucure before I removed and added this polish. It had been on for 2 weeks and was chipping badly. So far I have had this set on for the same amount of time and just two tiny chips in the paint job. Wonderful! It is hard and not pealing at all. I didn't use the blow dryer between coats as I did not have one available at the time and still it is wonderful.
Sadly I do not have after shots for you as my camera is well… shot. These are some poor instagram photos from a few weeks ago though!
Painting Nails Tips!
Do use the base coat and top coat else your just wasting your time, it will not last! Stay clear of the skin give a time but if room between your nail and your finger. I promise it can be done and not noticed that there is a space. It is worth it it do this, it will help keep the paint from pealing and chipping!
Check Back For More Photos Soon!
a Rafflecopter giveaway
DISCLAIMER:  MANDATORY ON  Giveaway
No purchase is necessary to enter. Void where prohibited by law. The odds of winning are based on the number of entries received. This promotion is no way sponsored, endorsed or administered by, or associated with, Facebook and is Facebook-compliant. Winners will be notified by email from a 'Pitch List ' Blog. Winners will have 36 hours to respond or risk forfeiting their prize. Prize fulfillment is the sole responsibility of the sponsor. This blogs participating may not be held liable for Sponsors who do not fulfill prize shipments.