Review And Givaway of Real Kids Shades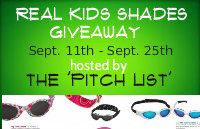 When given the chance to review these glasses I thought I would be picking a pair for my youngest child, however when I saw them I instantly had a different direction to go in, My oldest daughter!
The Real Kids Shades site says:
Real Kids Shades are not accessories or toys. They're necessary sun protection. If you're serious about protecting your child's eyes, get them a pair of our serious shades.
When I saw the older children's glasses I know that while they don't want parents to think of shades as optional but rather a serious topic, they at least know that kids need to WANT to wear these and if they are not in style, specially girls just will not. 
I picked these out for my oldest daughter in the color black. You can see what she thinks of them below.
She loves them! She loved them the instant she saw them.  You see she helps me often open all the mail, as a review blogger this is always mail! She she saw these she insisted they must be hers. I jokes and said they wouldn't fit her and must be for one of her younger sisters. She scooped them up and put them right on to make sure I was wrong. They did fit! You see the ages for this pair is  7-12 years old and she had just turned 13!  They fit wonderfully. Thank you Real Kid Shades. Please make ones for bigger kids too, this kid is growing!
Back to the facts of the matter!
100% UV protection
Fashionable
Professional High Quality Materials
Durable and Shatterproof
Wrap style to minimizes peripheral light
Waterproof
Rustproof
Kids Love Them and they come in many styles and colors.
I wanted to be sure to include a photo from their site to show how these glasses are great for younger children as well.
 They are sun glasses that stand a chance of staying on a busy baby or toddler for a change. Without metal hinges or pointy edges unlike other sunglasses with a strap they will not punch or hurt! Really a must for small children who often refuse to wear what Mom really needs them to wear at any given time!
These really are a must, but don't take my word for it. WIN one of these for your child and see for yourself!
GIVEAWAY!
 September 11th at 12:01am est - September 25th at 11:59pm est
a Rafflecopter giveaway
DISCLAIMER:  MANDATORY ON  Giveaway
No purchase is necessary to enter. Void where prohibited by law. The odds of winning are based on the number of entries received. This promotion is no way sponsored, endorsed or administered by, or associated with, Facebook and is Facebook-compliant. Winners will be notified by email from a 'Pitch List ' Blog. Winners will have 36 hours to respond or risk forfeiting their prize. Prize fulfillment is the sole responsibility of the sponsor. This blogs participating may not be held liable for Sponsors who do not fulfill prize shipments.