What Da Fluff subscription boxes is a fun cloth diapering surprise every month. Each box will contain at least one diaper as well as cloth diapering products (wet bags, cloth wipes, cloth diaper safe rash creams and detergent). What Da Fluff knows that parenting can be hard and will always have a small treat for you included in each box. What Da Fluff is a great way to try new products and test out samples before buying. Fluff Mail has never been so fun!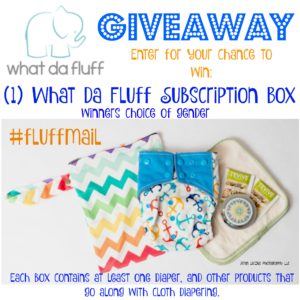 Winner Will Receive:
(1) What Da Fluff Subscription Box
MamatheFox and all participating blogs are not held responsible for sponsors who fail to fulfill their prize obligations.
Over all our years of parenting one of the shockingly fun things was cloth diapers! There are so many kinds and patterns and some how it just ends up that you collect them for your baby as they grow. Personally for most of my babies I love AIO's and AI2's but also prefolds and soft wool covers that are knitted. My husband always had an opinion about what he liked to use and he liked pocket diapers! I think this subscription service is fantastic for new cloth diapering moms and dads and experienced ones too as you get to try different things and might find something that works even better than you thought it would for your baby or toddler!
Good luck to all you brilliant eco-friendly rock star parents!
Related Posts :